Post by Tracy Kaler.
Do you have a dream bedroom? Perhaps you fantasize about sleeping in a canopy bed with rays of natural light streaming in through tall casement windows. Or maybe you prefer a dark, masculine space with rich red wall covering, deep mahogany floors and formal damask drapery.
You probably have a distinct vision in mind when it comes to your ideal room. Sweet or sassy, quaint or ordinary, bold or soothing, no matter your personal taste, if you're a design aficionado like me, you more than likely appreciate even the most unconventional rooms.
Talk about a view! This oversized Los Angeles bedroom extends out to the deck, which overlooks the ocean. The room has no ornamentation and doesn't need it. The exterior becomes part of the interior.
There's nothing mundane about this bedroom in New South Wales, Australia. From the dark paint on the walls to the whimsical wicker headboard, pendant lights, and the unusual accessories, the space strays about as far as from conventional as you can get.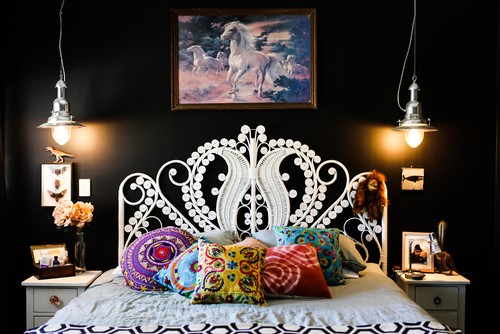 What is it? A micro-bedroom? A mini-loft? It's a space-saving bedroom in Manhattan's East Village that's pretty darn clever, if you ask me. The room may be compact, but sure looks cozy.
"Zen minimalist" is what the designer calls this space, and with its exposure to the great outdoors and Asian influence, I can see why. Designer Vivian Dwyer wanted to "insert modern elements into this house of the earth." The bedroom has an adjacent open bathing area and faces giant redwood trees at the rear of the property.