Monthly Archives:
December 2014
Post by Tracy Kaler.
Do you decorate your bedroom for Christmas? I tend to add a few small embellishments to my bedroom because I like my whole apartment to feel seasonal and in the spirit.
During this most wonderful time of the year when all things seem merrier and brighter, why not try introducing holiday décor into your bedroom? There are plenty of decorating opportunities even in the tiniest quarters, and a little bit of red and green, silver, or gold will go a long way.
Let these four festive spaces inspire you to decorate your bedroom this holiday season.
A suite with seasonal pillows, evergreen wreaths, and poinsettias in the master bath would put anyone in the mood for Christmas. The year-round sage green wall color and ruby red lampshade only add to the holiday feel.
Touches might be subtle in this all-white bedroom, but by the looks of things, Santa is on his way. A simple strand with red stockings in different shapes and sizes hangs from the footboard, while a small red accent pillow enlivens this otherwise neutral room and readies the space for December 25.
If you're lucky enough to have a fireplace in your bedroom, the mantle is the ideal place to start your holiday decorating. I like the combination of grapevine garland, red and silver balls, and greenery here. The wreath, white lights, and candles finish off this fireplace nicely.
Oh, how I want this room to be mine. I adore the chartreuse lampshades, the green accents, and the mostly black and white color scheme. The pinecones and evergreens look like they belong all year long. A modest "joy" accent pillow is all this bed needs to welcome Christmas.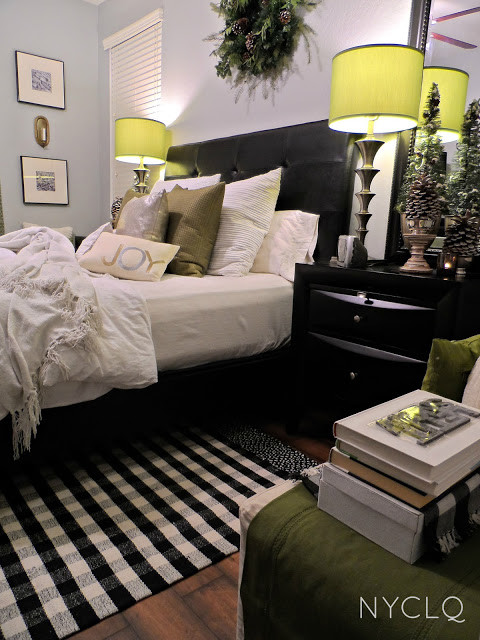 Post by Alison Hein.
Before we let go of autumn and plunge into winter's chilly arms, why don't we briefly revisit the harvest with some old-fashioned, homey Pumpkin Butter? A jar of this sweet spread is a time capsule that will bring you back to days past as you enjoy its cozy, pumpkin pie flavors. Make your own flavorful purée by roasting or steaming fresh pumpkins, or use a pre-packaged can for a quick, easy delight.
It's "butter" only in the sense that it is spreadable. Pumpkin purée, brown sugar and pie spices thicken up and colors darken as they cook into a "shmearable" substance, just right for a slice of hearty toasted bread. Or, try a spoonful of Pumpkin Butter stirred into some hot oatmeal for a delicious diversion. You may also like it scooped on top of some freshly baked waffles, or even mixed into a dish of plain yogurt. Packed neatly into a glass mason jar, pumpkin butter makes a lovely gift as well.
Years ago, many families prepared and canned their own pumpkin butter. In recent years, however, the USDA warns against canning pumpkin (and other squash varieties) due to the low acid content of the vegetable. While some people still preserve pumpkin butter, adding lemon juice or vinegar to raise the acidity levels, I think it best we follow the guidance of the USDA and simply eat it immediately – spread, scooped or stirred – for an old-fashioned, homey breakfast in bed.
Ingredients
1 15-ounce can (or 2 cups fresh) pumpkin purée
½ cup light brown sugar
½ teaspoon salt
½ teaspoon cinnamon
½ teaspoon ground ginger
¼ teaspoon ground cloves
1 teaspoon vanilla
Preparation
Combine pumpkin purée, brown sugar, salt, cinnamon, ginger, cloves and vanilla in small heavy saucepan. Bring to a slow simmer over medium heat. Reduce heat to low, then cook until thickened and flavors are melded, stirring occasionally, about 20 to 25 minutes.
Cool, and place in jar. Use immediately, freeze, or refrigerate and use within one week.