Tag Archives:
Sleeping Lofts
Post by Tracy Kaler.
Designers often create loft bedrooms as space-savers in tiny apartments or homes. Ceiling heights tend to be high –– think 12 or 15 feet, and sometimes higher –– allowing enough room for a lofted bed space above the primary living quarters. The downfall of these spaces is that they often require a ladder to enter and exit. Some, however, have enough floor space to create stairs, making them more practical for everyday living arrangements.
Let's take a peek at five sleeping lofts ––whether they use a ladder or stairs –– that appear to be comfortable and work well within each interior.
Complete with a house cat, this open floor plan of a converted garage comes with a tiny kitchenette and a loft for sleeping. This space boasts an industrial feel, and was featured in the New York Times. The beautiful photo was taken by Ira Lippke.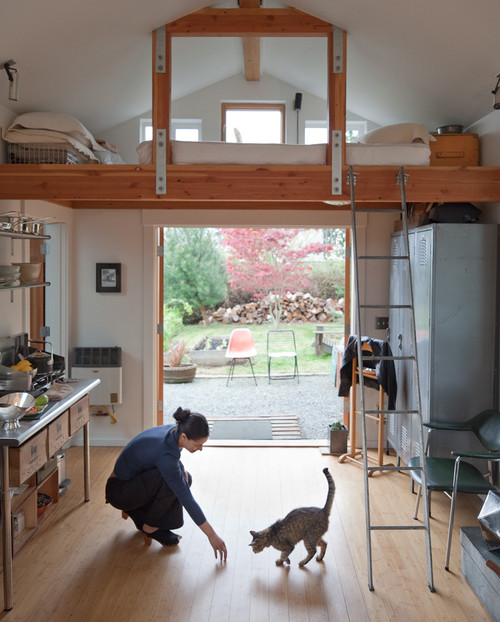 This colorful, contemporary family room in Phoenix was carefully planned. The sleeping loft sits above the bath, so as to not take any space away from the main room. Orange barn doors and an over-scaled pattern on the area rug warm up the cool, concrete floors.
This home demonstrates the beauty, simplicity, and elegance of white. Stairs lead to lofty twin bedrooms, each with privacy curtains. Located in Tybee Island, just outside Savannah, this cottage is a dream beach house, in my opinion.
Climb a few wooden stairs and you can escape to this bedroom hideaway. Uncluttered with a modern aesthetic, the space is more than sufficient for guests.
A rustic treehouse with a log cabin feel, the San Francisco guesthouse boasts mismatched textiles, actual tree trunks, and a knotty wood finish on the loft, all of which add to its charm.