Tag Archives:
Tropical Design
Post by Tracy Kaler.
Arctic air has invaded New York City. Even though summer is months away, I'm desperately trying to steer my thoughts towards warmer weather. Since so many New Yorkers book beach vacations in January and February, there's no time like the present to dream of a trip to the tropics.
Even if you aren't in a position to jet away for a week of sun and sand, you can escape the cold mentally through a look at these stylish bedrooms with a tropical island theme.
This Caribbean twin bedroom by Gary McBournie boasts a happy feel with its orange and yellow color scheme. A natural-fiber rug and the mosquito nets complete this charming escape.
Colors of the sea decorate this large coastal bedroom in Tampa, Florida. Shades of blue and green keep the space feeling calm yet chic.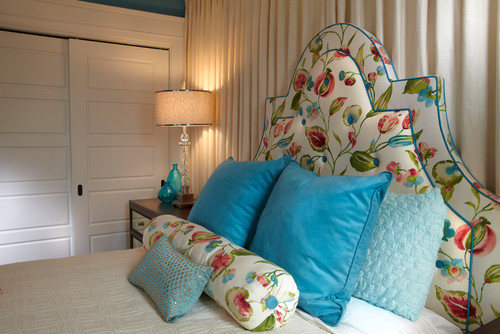 Inspired by the Bahamas, this room exudes cheeriness but with a Caribbean feel. Can't you just see yourself sipping a Pina Colada while relaxing on that bed?
I don't miss bold colors in this bedroom because the white scheme and dark wood are attractive, giving the space a West Indies feel. An accent pillow and a few books introduce a touch of color to the otherwise neutral space.
Have you ever been to Barbados? This luxurious room in the Coral Reef Club looks like the ultimate spot to spend an extended weekend. Subtle Caribbean influences in the material choices and furniture make the suite feel welcoming and stylish. When do I leave?
Post by Laura Cheng.
The tropical New York heat calls for a tropical getaway. And if not by plane, then by transforming your bedroom into an oasis complete with palm leaf décor.
Jumbo, greenery printed bed sheets can easily achieve the look. A quick trip to a store like Crate and Barrel and done! A wooden, four poster canopy bed makes a statement in the center of this bedroom among the mural of framed prints and mirrors. Symmetric nightstands and footstools balance out the rest of the bedroom. The organically woven texture of the footstools lend a fresh, resort style atmosphere. I have always loved the combination of a bright, masculine green and a bold, feminine pink. The bedroom would not look as put together if it were not for the vase of magenta flowers and the pop of color it adds.
Source: http://www.thelennoxx.com/category/browse-by-room/bedroom-interior/
It is no doubt that green and pink make great, modern design statements. The color combo shows up again in this room. However, the main show stopper that caught my eye is the golden frond fan. I'm a huge, huge "fan" of Portuguese designer, Prego Sem Estopa, who designed the room below. A fan like this one would serve dual purpose, transforming the bedroom into a breezy, fashionable retreat.
If there is already a fan in your room, but it looks like it was tragically pulled from the basement of your grandmother's house, then despair no more. No need to buy a whole new fixture. Palm leaf fan blades are sold as attachable accessories to your currently existing fan. In addition to adding tropical flair, the blades pound around more air per square inch, meaning a cooler room in the current summer heat.
Source: http://www.thelennoxx.com/tag/lattice/
Can you count the number of tropical icons in the room below? Palm leaf draperies, coordinating fern throw pillows, bamboo blinds tropical leaves in vases, glass bottle table lamp, branching sculpture floor lamp, seagrass wallpaper, sea horse accent pillow, and a tropical green chaise are all topped off with an amazing sea view. So if you said 9, you are correct! And as your game show host, I present you with door number 3, your bedroom renewed into a tropical oasis. Take any of the style cues from this bedroom into your own to get you through the rest of the balmy and sultry New York summer.
Source: http://thelennoxx.files.wordpress.com/2009/07/preppyint-2-l.jpg