Post by Tracy Kaler.

If you a prefer soft, cushy floor covering for your bedroom (yes, your toes will thank you), then this blog post is for you. While there's a host of different types of carpeting, some synthetic and some made from natural fibers, here's a quick overview of cut pile carpeting (sometimes just called "plush"), a good choice and some of the comfiest flooring for a bedroom.
What is cut pile? Commonly used in bedrooms, cut pile has no loops and tends to feel softer than loop pile carpets, making it a more practical choice for the bedroom. Since yarns are cut, the carpet feels denser. Looking for soft carpet for your bedroom? Consider these types of cut pile carpeting.
Plush (velvet)
This carpet has a smooth almost sleek, formal look to it. You'll see those footprints and vacuum marks, but you might not mind so much because this carpeting feels luxurious.
Textured plush
This type of carpet is versatile and can work with most design styles. If your bedroom is going to be used for more than sleeping, textured plush is a good choice because it's a little tougher than these other options. You won't see footprints or vacuum marks either.
Frieze
A good choice for an informal bedroom that gets regular activity, frieze will be more casual than plush or textured plush and footprints and marks won't be so noticeable.
Saxony
The finish is smooth on saxony carpet, but because the fibers are longer (and twisted), furniture dents are common. Saxony is one of the most popular carpets types.
Cable
Besides plush, cable is probably the most comfortable carpeting on this list. The fibers are long and thick and can crush easily, so it's best for low-traffic areas like the master bedroom.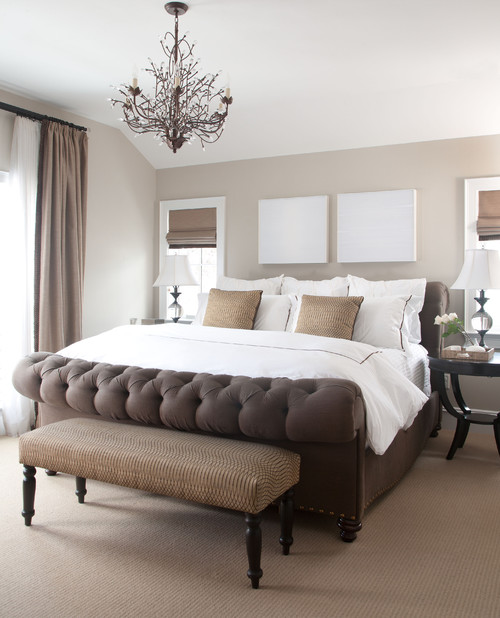 Shopping for carpet? You'll discover many other types such as sisal, linen, silk, and the famed Wilton, a high-end woven carpet. Select your bedroom carpet based on lifestyle, price, and taste. Not looking for wall-to-wall carpeting? Go with an area rug, instead.