Post by Tracy Kaler.
Bedrooms commonly come decorated in light neutrals and happy colors such as yellow, soft greens, and pale blues. Often, furnishings might be slim or curvy in line rather than bold and geometric. Design elements like these tend to make a room feel more dainty and feminine. But if you add in darker hues, less pattern, more texture, and furnishings with a modern sensibility, suddenly the space feels more masculine.
Believe it or not, manly-looking rooms aren't only attractive to men. Some ladies prefer a simpler, contemporary retreat with clean lines, neutrals, or richer colors. We can plainly see how both sexes would feel elegant in these four dreamy bedrooms with masculine décor.
This otherwise sleek sleep space gets its warmth from the deep-colored paneled walls. The navy blue comforter provides contrast, and the throw pillow brings the outside in. A white chair, sconces, and sheets brighten things, while the runner ties the scheme together.
Loaded with texture, this bedroom by Jeffers Design Group proves that neutrals need not be humdrum. The varying shades of grey and brown work beautifully and the space is soothing and inviting.
This relaxed Spanish bedroom lacks a headboard but certainly not style. The shag rug, striped shams, unstructured bedding and side panels, no-fuss pendant lamps, and modern furnishings contribute to the masculinity.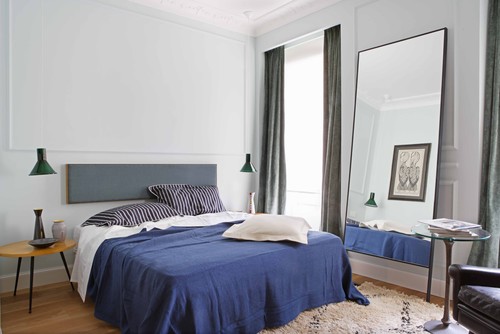 This tailored space contains more color than the above choices, but still feels substantial and far from girly. The simple upholstered headboard, touch of paisley, black and white photo above the bed and the Oriental rug, give this "undecorated" room a masculine vibe. Male or female, who wouldn't love to sleep here?