Post by Tracy Kaler.
Mix It Up: Plaids in a Bedroom
With winter weather upon us, there's no better time to break out the plaids. I love how these understated geometrics mingle well with checks, stripes, or even florals. A plaid-on-plaid scheme might sound buttoned-up, but a room can appear cheerful, fun, and even whimisical depending on the colors selected. Get inspired by these five fab bedrooms with plaids.
This comfy, cottage-like twin room is a space saver with built-in shelving and beds. The plaid gives a slight grown-up feel to the compact hideaway, which is perfect for boys of any age.
A darling Burberry plaid covers this sweet bed. Plaid-flanged shams coordinate nicely. Notice the ticking on the reverse side of the comforter. The monogrammed Greek key accent pillow completes the look.
Who doesn't adore a good plaid on the windows? Roman shades, side panels, and pillow shams are done up right in plaid. A botanical rug provides contrast and a touch of femininity. Although not a likely color combination, the blue and brown create a calming space ideal for rest.
I bet you're oohing and aahing at this clean and elegant bedroom. I am. Brown and white tartan covers the structured headboard, the shams wear a fun pattern, and the accessories are clean and classic.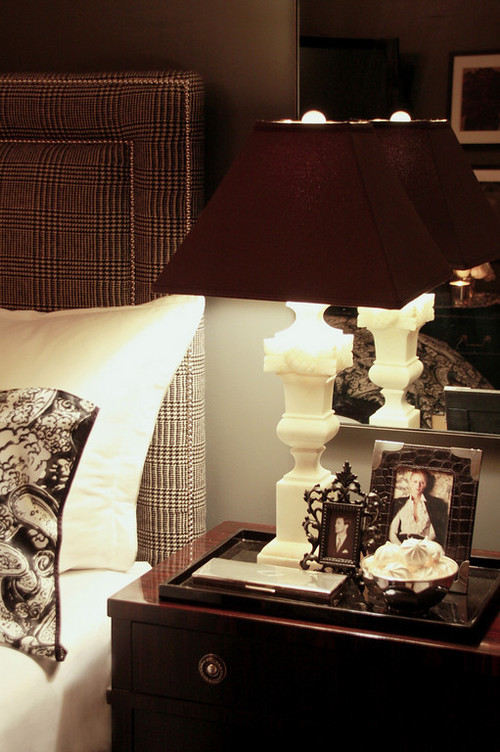 Here's an example of mixed plaids in different scales and colors, and they work beautifully. There's nothing I dislike about this room, but my favorite accessory happens to be asleep on the bed.