Post by Tracy Kaler.
We often associate dark browns with masculine rooms, and most people wouldn't deem chocolate a feminine color. I'd have to agree, but I'll also tell you that rich, chocolate browns can often be successfully combined with girly colors such as pink, tangerine, and yellow.
That being said, take a moment to swoon over these five pretty rooms in which chocolate brown plays a starring role.
Speaking of pink –– this room is a prime example how lovely chocolate and pink can look together. The deep color of the headboard and bedcovering adds a lavishness to the otherwise pastel and white space. The designer used a banding on the draperies for another touch of cocoa.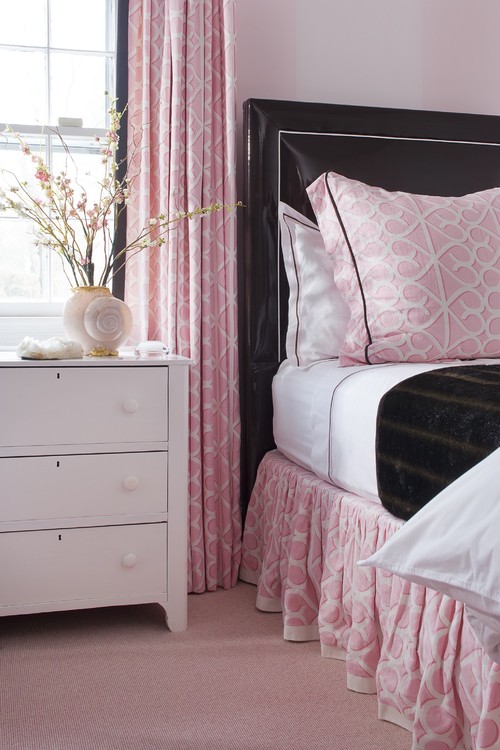 Traditional Kids by Fairfield Interior Designers & Decorators Tiffany Eastman Interiors, LLC
This room oozes fun and was obviously designed for a young man. Chartreuse green touches break up the deep brown accent wall and duvet. Chocolate brown shelving appears as if it's growing from the wall.

Contemporary Kids by Las Vegas Interior Designers & Decorators DIVA INTERIOR CONCEPTS
This room is proof that brown can work well on a ceiling. Not only does the color add warmth, but this shade turns an otherwise neutral room into a dramatic space.
I love the simplicity of this room! A chocolate brown headboard looks rather stately, yet the bold geometric pattern on the pillows lightens the mood. The lime green nightstands are the ideal accent color for this happy bedroom.

Contemporary Bedroom by Chico Kitchen & Bath Fixtures Build.com
I am wild about this paisley duvet, which breaks up the other chocolate bedcovering. Pale silver walls, crisp white, and the starfish prints make for a stunning bedroom. The space has the right amount of brown and the perfect touch of pattern.

Beach Style Bedroom by Little Rock Interior Designers & Decorators Tobi Fairley Interior Design