Tag Archives:
Headboards
Post by Tracy Kaler.
A headboard gives a space a more polished look, and it's often an essential ingredient in a bedroom's overall aesthetic. But the question remains, is a headboard really necessary? Personally, I love an upholstered layer between the wall and my head, but a lot of people looking to streamline their design prefer no headboard at all. Let's take a look at some successful bedrooms that don't seem to miss a beat even though they're sans headboards.
This minimalist bedroom in Amsterdam plays on whites and grays with touches of black. Bedside lamps take on a sculptural quality against the stark backdrop. The room has a Scandinavian feel.
I don't miss the headboard in this Melbourne, Australia bedroom. Artwork hangs low, and the darker shams almost trick the eye into thinking there's a headboard, even though there isn't.
A summer cabin in Sydney uses plenty of stripes –– the floor pattern, window paneling, and bedding. With this room layout, not using a headboard was the best choice considering the window is in the center of the bed wall. The other option would've been to cover the window with fabric, creating a softer background for a headboard.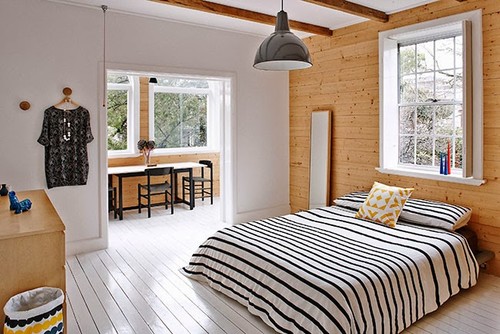 This London bedroom's decorated ledge gives the illusion of a headboard. The colorful artwork makes a statement in this bright, airy room.
Tony Ivey & Associates used an oversized bolster as a makeshift headboard in this Albuquerque bedroom, which also has a Scandinavian feel. No headboard lends itself to this uncluttered, modern design.