Tag Archives:
Paint
Post by Tracy Kaler.
We already know that painting is the least expensive way to transform a room, especially if you're up to the task. (Hiring professional painters adds a whole other line item to the budget, and contractors can get expensive.) So, you're probably thinking, "What if I don't have any experience painting? Should I attempt to tackle a project like painting my bedroom?"
If you're willing to follow instructions and spend the time needed (not rush through the job), then you should be happy with the results. I've put together a list for the novice painter, and if you follow these pointers, you'll find yourself painting like a pro.
1. Prep.
Make sure your walls are clean and ready for paint. Using a soft sponge, wash the walls with water and a mild detergent. After the walls are dry, spackle any holes and sand for a smooth finish. Check out these detailed instructions how to properly prep for paint (the key to a professional-looking paint job.
2. Prime.
Once you're all prepped, you need to prime the walls if you're changing colors. If you're keeping the same color and you don't have a lot of wall repair, you can get away without priming. If you're using a dark color, be sure to buy a tinted primer. (Follow painting instructions below for primer.) Again, if you're painting with the same or very similar color (a white to an ivory), you shouldn't need primer.
3. Cut in.
Next, you'll want to cut in the corners and edges using an angled paint brush. If you're not good with a brush, you can use painter's tape to tape off edges around trim. Know that taping will add time and the paint can bleed over edges, so many professional painters don't recommend it. If you must tape, be sure to remove it as soon as the walls are dry to the touch so it doesn't pull off any paint. Cut in several inches around all trip and in corners.
4. Roll.
Once you've cut in, attach your roller to an extension so you can reach those high places. Pour your paint into your tray and saturate your roller. Roll the paint in a "W" pattern and continue with vertical rolls until the entire wall is covered. Then, move on to the next wall. Tip: Be sure to wait until the paint is completely dry before applying additional coats.
How much paint will you need?
One gallon should cover approximately 400 square feet, but if you're painting a dark color like navy blue or red, the coverage could be less and you'll need additional paint. Ask your local paint store what they recommend. Better to have some paint left over anyhow, because touch-ups are practically inevitable.
Which finish paint should you use?
Walls are typically best in a flat, eggshell, or a low-sheen paint. In a bedroom, which is a low traffic area, you should be able to use flat paint without issue. Take a look at Benjamin Moore for more info on colors and finishes. Happy painting!
Post by Tracy Kaler.
Paint is a simple and relatively inexpensive decorative element, yet it can drastically change the aesthetic of any space. From a simple ivory eggshell that adds life to a dull room, to a cleverly painted bold pattern on an accent wall, paint is the decorator's best friend, and in a remodel, should be yours too. Here are five cool ways to bring pattern by paint into a bedroom.
An accent pattern is introduced in this space and enhances an otherwise plain corner. Want to try this at home? Select contrasting colors, as shown, or for a more subtle effect, use similar tones.

If you think wall patterns might be too busy, have a look at this graceful chevron design, which adds pizzazz and transforms this clean, almost under-decorated bedroom.
Painted stripes are a terrific wall treatment for any bedroom, including a nursery or child's room. Make a statement and paint extra wide panels horizontally; or, go for a wallpaper look with narrow vertical stripes. Tone on tone or complimentary colors work nicely. Stripes typically work well above wainscoting, as well.
Have an old dresser that's ready for a yard sale? Transform the piece from shabby to chic by painting the frame a dark chocolate and the drawers a soft white or cream.
If you're lacking in the artwork department and your budget is dwindling, why not create your own? Purchase a stretched canvas, find a pattern at Cutting Edge Stencils or let your creative juices flow and come up with your own design.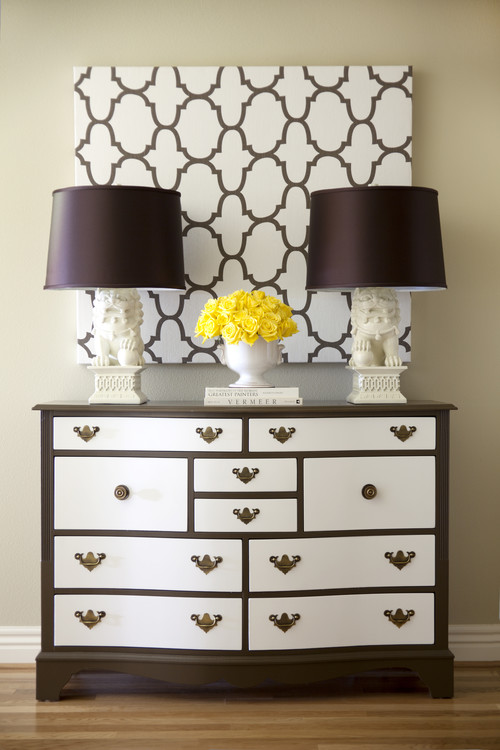 Children are entitled to a stylish bedroom, too. This wavy backdrop is a perfect motif for the in-between age, or any age, really. Great looking and not too sophisticated, this design will add color and panache to rooms with even the simplest furnishings.