Tag Archives:
Colors
Post by Tracy Kaler.
Brown in a bedroom? Okay, so the color doesn't sound sexy, and when you fantasize about your dream bedroom, you're probably not dreaming in brown. That being said, it's not the most obvious choice for the basis of any color scheme –– especially that of a romantic room –– but brown can be incredibly appealing, and lovely in a bedroom. Let's take a peek at a selection of chic brown bedrooms.
Straightforward with a clean design, this California bedroom takes on a Mediterranean feel. The crisp, white bedding balances the soft brown backdrop. Notice how the nightstands fit perfectly into the head cubicle.

Timeless elegance and luxurious, brown walls set the tone for this Chicago bedroom. Again, the white bedding pairs well, but this time, with an embroidery detail. A traditional crystal chandelier makes the space feel upscale with a feminine twist.

Photo by Rugo/ Raff Ltd. Architects
Designer Marcia Morine used a variety of brown shades in this rustic bedroom in Minneapolis. The house boasts a mountain or lodge feel, and the smart layout accommodates multiple guests.

IMI Design LLC is responsible for this contemporary Asian-inspired Phoenix bedroom, which has brown in the grasscloth, wood floors and built-ins, platform bed, ceiling pattern, and bench, but adds a color on the bed. This teal bed covering gives the space the punch that it needs.

This San Francisco bedroom might be a bachelor pad, but that doesn't mean a woman wouldn't appreciate the space. Decorator Grace Dumalac added a woman's touch but still maintained a level of masculinity for her single client, and it begins with brown walls.

Post by Tracy Kaler.
Rustic and cottagey, this dreamy, shabby chic bedroom relies mostly on neutral tones, but the pale pink flowers and celadon bring some pastels into the lovely mix.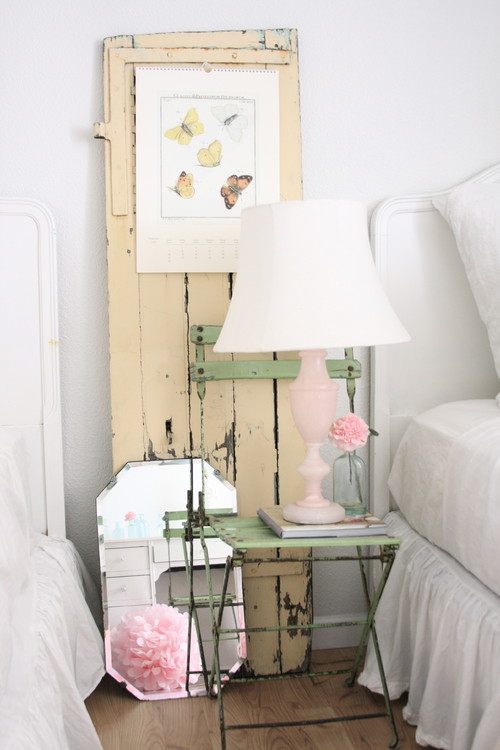 Photo by Dreamy Whites
A transitional Nantucket bedroom uses muted greens with white to create a sophisticated guest space using a daybed. This cozy room boasts just the right amount of texture.

Photo by Eric Roseff Designs
Pale pink rose is the primary color in this traditional bedroom with modern touches. Whitewashed floors and lots of natural light keep the space feeling bright and airy.

Photo by John Lewis
Baby blue keeps this room feeling elegant and classy. A touch of bolder blue in the throw pillows adds punch while the rest of the space stays muted.

Photo by Urban Home Magazine
Various shades of pale yellow give this traditional room a monochromatic look. The 19th century Victorian home in Boston has been restored and expanded yet hasn't lost its character. Brimming with pattern, the room doesn't appear busy, but rather, soothing and homey.