Tag Archives:
Pastel
Post by Tracy Kaler.
Rustic and cottagey, this dreamy, shabby chic bedroom relies mostly on neutral tones, but the pale pink flowers and celadon bring some pastels into the lovely mix.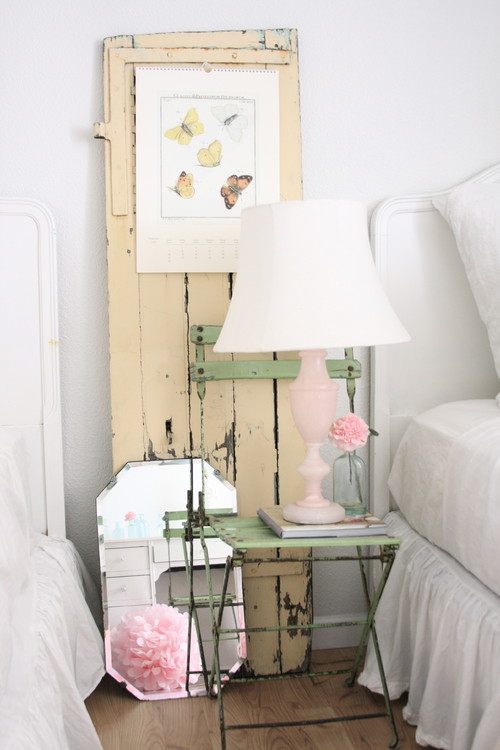 Photo by Dreamy Whites
A transitional Nantucket bedroom uses muted greens with white to create a sophisticated guest space using a daybed. This cozy room boasts just the right amount of texture.

Photo by Eric Roseff Designs
Pale pink rose is the primary color in this traditional bedroom with modern touches. Whitewashed floors and lots of natural light keep the space feeling bright and airy.

Photo by John Lewis
Baby blue keeps this room feeling elegant and classy. A touch of bolder blue in the throw pillows adds punch while the rest of the space stays muted.

Photo by Urban Home Magazine
Various shades of pale yellow give this traditional room a monochromatic look. The 19th century Victorian home in Boston has been restored and expanded yet hasn't lost its character. Brimming with pattern, the room doesn't appear busy, but rather, soothing and homey.

Post by Kyle St. Romain.
With spring fast upon us, there is lots of work to be done. March is a fun-filled month full of things to do for everyone: organizers who have long anticipated spring cleaning; gardeners anxious to get their summer planting underway; families looking forward to time with loved ones during Easter; and interior designers who are ready to shed the dark, heavy fabrics of winter for something more bright and refreshing.
To help get your home in the spring of things, we've put together a list of some of the hot interior design trends for Spring 2013.
Nature's Nurture
Spring 2013 interior design is heavily influenced by nature. Whether it's in the form of earth-tone colors or the use of organic building materials, more and more designers are drawing inspiration from organic design elements. Materials like rough-cut hardwood floors, slate countertops, and weathered concrete building elements are examples of this natural, contemporary design trend. You can also incorporate natural/living décor, such as wall hanging plants, to bring a more natural feel to your space.
Pastel Pleasure
To contrast with your natural design elements, colors from the pastel palette provide the perfect pop. Check out Pantone's 2013 fashion color trends to get a feel for the types of colors that are in season this spring. If you need help visualizing how to put the perfect color pallet together, Pantone has also compiled several complete color palettes so you can get a sense of how these colors work together.
Here's a hint for next season: pay attention to the Neiman Marcus Spring Catalog, as many of the colors featured on their clothing are trendy in the interior design world as well.
Creative Lighting
Light fixtures have been prominent in interior design for the past few years, and that trend is expected to continue. Using contemporary light fixtures, or light fixtures that otherwise contrast with the rest of your room's design, is a great way to spice up a room without having to redo everything. A lot of popular light fixtures today use the old-timey Edison bulbs, which add a cool retro feel and a warm glow to your space.
Quick Tip To Freshen Up Your Bedroom This Spring
If you don't have the budget to redo your entire bedroom this spring, don't worry. There are a number of ways you can dramatically change the look of your room without spending much time or money. An easy way to update your bedroom this spring is to buy a new comforter, or comforter cover.
Since the bed comforter is such a large piece of fabric that is prominently displayed in your bedroom, you'll really get a lot of bang for your buck visually. Bonus points if you can find a new comforter that's reversible! Lightweight comforters will also help keep you cooler in bed during the warm summer months, making this a very practical update.
Are you planning any interior design projects this spring? Let us know how your project is going in the comments below.