Tag Archives:
Window treatments
Post by Tracy Kaler.
Windows should never be ignored, as they are fundamental in the design scheme of any room. They provide pattern, allow light, enlarge a space, and once treated, can greatly affect both the aesthetic and mood of an interior. From single treatments to layers, these six window treatments inspire us to appreciate and embrace window coverings, particularly in our own bedrooms.
A hotel-inspired Los Angeles bedroom boasts woven shades and billowy drapes. These window treatments soften the neutral yet elegant space.

Photo by Talianko Design Group, LLC
A custom-pleated window valance in a traditional floral pattern layers well over the Roman shade, creating a soft backdrop for the bed in what appears to be an attic bedroom.

Photo by Kingsley Belcher Knauss, ASID
Plantation shutters, tiebacks, and a balloon shade set the stage for this darling little girl's room in San Francisco.

These outside mount Roman shades contribute to the sophisticated yet rustic elegance of this room. The delicate curve celebrates these tall, slender windows.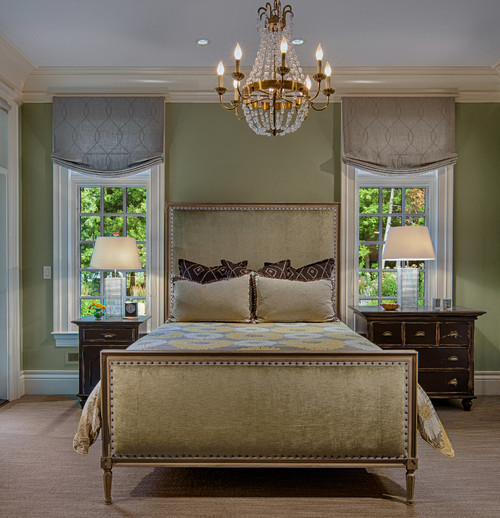 Photo by DeLeers Construction, Inc.
The designer selected simple side panels to frame windows in this log-cabin-lined ranch home. This creamy beige color is the perfect companion to the muted brown walls in the Wyoming bedroom.

Sheers allow wonderful light to seep into this Tel Aviv bedroom while still providing much-needed privacy.

Post by Tracy Kaler.
Everyone has a wish list when designing a bedroom. Some things may be for aesthetic purposes only, while others may be functional. Here is my lineup of must-haves that I can't live without in my personal sleep space.
1. Nightstand with a drawer
As much as I adore bedside tables, I need a proper nightstand with at least a single drawer, if not double. I like to keep everyday items like eyeglasses, earplugs, tissues, hand lotion, lip balm, and more, tucked neatly away so these necessities are nearby when I need them.
2. Decorative throw
Whether I drape it over a chair or leave it at the foot of the bed, a throw has its place in my bedroom. I prefer a knitted or crocheted style, which adds texture and is ideal for snuggling.
3. Ceiling Fan
The sound of a fan soothes, the light, yet constant breeze cools, and the circular movement relaxes. Any bedroom I own or sleep in on a regular basis must have a ceiling fan.
4. Television
Sleep specialists will profess that TV in a sleep space is a big no-no, but I find a big screen a necessity in my bedroom. I rarely watch while trying to fall asleep, but on occasion, reality television or late-night comedy clears my head and prepares me for the following day.
5. Window treatments
Even though I don't feel relaxed in complete blackness, I prefer city lights at their dimmest setting when I crawl into bed. I also fancy sun in the morning, however, so blackout shades provide too much darkness. A lined roman shade and lined curtains on my oversized bedroom window control light in both morning and evening hours. This combination filters just the right amount of sunlight, and subdues the 24-hour brightness of Manhattan at night.