Tag Archives:
Redecorating
Post by Tracy Kaler.
Redecorating might sound like a chore, but rest assured, if you're up to the task, you'll probably be thrilled once the project is complete. Yes, you'll have to do your homework, make a host of decisions, write a lot of checks, live in disarray for some time, and perhaps even hire an interior designer to get the results you want. But in the end, you'll have a functional and comfortable space to come home to every evening, and a bedroom you love to wake up in every morning. Still not sold on a bedroom redo? Peek at these ten photos that will inspire you to redecorate your bedroom.
A transitional Nashville bedroom oozes sophistication and style.

This San Diego beach bedroom boasts the right amount of color and pattern.

A Cleveland penthouse remains neutral and almost monochromatic but is far from monotonous.
A Moscow bedroom – with its lilac walls and contemporary furniture – makes a design statement.

Not a hair is out of place in this tailored blue and white bedroom in Southwest Florida.

This classic high-rise city bedroom is simple, spacious, and comes with a terrace.

An industrial Denver loft bedroom can inspire the modernist in all of us.

Beige never looked so good as it does in this Melbourne bedroom.

You would never know it, but this Nantucket bedroom is in Los Angeles.

Even if the color palette isn't your taste, you can't deny the loveliness of this bedroom designed by Gray Walker Interiors.

Are you inspired to redecorate your bedroom yet?
Post by Tracy Kaler.
Garages aren't just for parking cars and storing tools and miscellaneous belongings. With some smart planning and TLC, these attachments can become usable living spaces. Let's take a look at some great-looking garage bedrooms, courtesy of Houzz.
Who would have thought that a garage could be this chic? Beautifully designed by Jill Neubauer Architects, this Truro Beach kids' room is colorful and well planned, providing and indoor/outdoor sleep space for six.

A Seattle garage keeps things minimal and modern, but gets the job done. Ideal for guests, this bedroom could use some additional soft goods such as an area rug and upholstered chair, but at least the paneled walls and ceiling warm up the otherwise industrial space. Murphy beds leave plenty of floor space, allowing the room to be used for entertaining or other functions.

This Los Angeles garage was transformed into a shabby chic guest cottage for a college student. Not too shabby of a dorm room, if you ask me. The cost of the renovation was $20,000.

A Shelter Island farmhouse garage gets a makeover with a bed, white curtains and bedding, and a mosquito net, lending a touch a romance to the room.

Believe it or not, this bedroom and living space used to be a garage. The conversion successfully created a studio apartment with all the modern conveniences. Could you live here?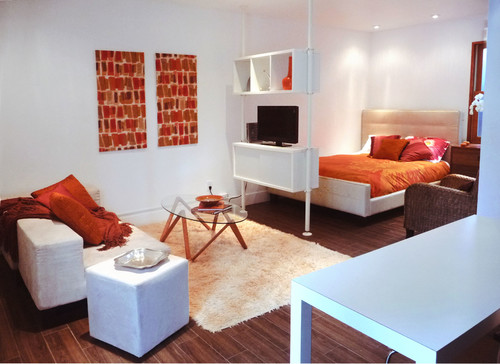 Post by Tracy Kaler.
When was the last time you decorated your bedroom? If it's been a decade or more, your space probably looks a little outdated. Even if you have a classic brass bed that remains timeless, things like patterns and accessories can start to look tired and lifeless after a while.
Updating your sleep space might not require as much time and energy as you think, however. Take a look at these five tips to help you modernize your bedroom, so it's feeling fresh and stylish in a flash.
1. Play with fabrics
It's easy to see how the above bedroom could look dull and dated without the prints on the curtains and pillows, which add a splash to the interior. Don't be afraid to try a new pattern, even if it's on the trendy side.
2. Create an interesting bed wall.
Cabinetry and an over-the-bed shelf add interest and dimension to this white room's bed wall in an Amsterdam home.
3. Purchase a sleek platform bed.
A platform bed can facelift even the most dated bedroom. Transform your space by adding a modern bed or headboard.
4. Accessorize
A chandelier, clean no-fuss art above the bed, accent pillows and a throw at the foot of the bed, breathe life into this Minneapolis bedroom.
5. Add a classic modern piece or a conversation-starter.
A Scandanavian chair dresses up the corner of this contemporary bedroom. A sculptural piece of furniture or an objet d'art can add flavor to an otherwise bland interior.