Tag Archives:
bedroom
Post by Mark T. Locker.
People fall into two camps: those who love Wes Anderson and those who do not. And those who do not tend to voraciously not like him.
Okay, maybe I'm oversimplifying it a bit. I don't love Wes Anderson. But I like some of his movies. Well, I had been told that this movie would be the great crossover hit that would win Wes naysayers over to team Wes. I guess the argument was that this was the least Wes Anderson film that Wes Anderson has made.
I don't know about that. The Fantastic Mr. Fox was pretty unhip. Actually, I thought this had a lot of the same quirkiness that rubs people the wrong way (or what I assume does) what with the particular way everything is arranged and shot and the characters who seem weird for no particular reason. But on the other hand, the plot seemed like a normal plot! And for me, that was a very good thing.
In Grand Budapest Hotel, Ray Fiennes plays M. Gustave, the concierge of the hotel, a perfect gentleman and incredibly suave. He plays the role wonderfully as does Tony Revolori, who plays the young lobby boy Zero who is taken under Gustave's wing. As with all Wes Anderson movies, the cast is peppered with many beloved actors, some appearing only for a moment. But I always grin when Bill Murray appears, even if briefly. I'd say this movie is worth watching if you aren't a staunch anti-Anderson fanatic. It's got a great story, likable characters, and everything is okay in the end.
Post by Tracy Kaler.
The Glamour of Hollywood has influenced interiors for decades, and continues to do so today with bold colors, plush textiles, and dramatic black and white photography. Alluring and seductive, these four bedrooms will make you feel Academy Award worthy, and ready to settle in with a dry martini and one of your favorite films in bed.
The teal, cream, and gold color scheme is not only appealing, but soothing and comfortable. The high tufted headboard with the furry throw pillows bring luxury, the mirrored nightstands add a touch of vintage, while the geometric wall covering sets the room's mood. The decorative throw is magnificent and feminine, and the fuzzy rug softens.
White probably doesn't seem an obvious color choice for a Hollywood-style bedroom, but here we see that's not the case! A shag rug, faux fur bed covering, and pendant lamps exude decadence. The classic Mies van der Rohe Barcelona chair defines the corner, and a simple black and white picture hangs almost too high, yet balances the lowness of the rest of the space.
div>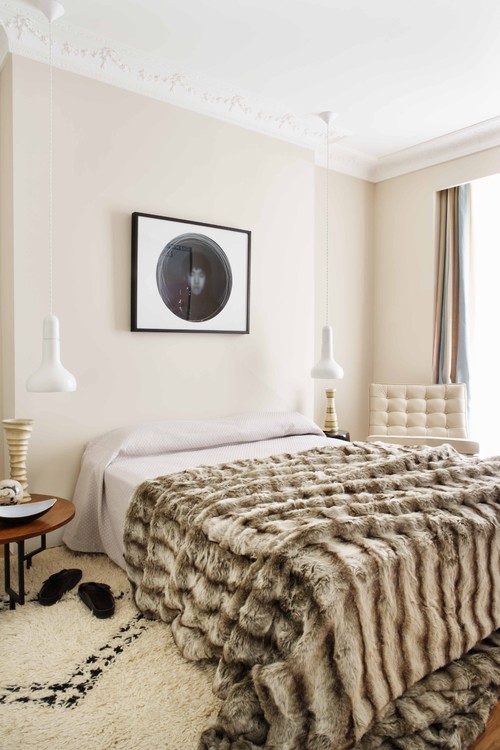 The silver and red color scheme is all it takes to feel rich and glamorous in this Four Seasons residence. Components like the tufted platform king bed, the over-sized crimson sofa, the silver wall-to-wall carpeting, and the simple, modern lighting create a feeling of grandeur. In my opinion, the abstract art is the focal point in the room.
This bedroom is an example of true glam, Hollywood style. Silk upholstery, lucite and glass are simply bewitching in this space by Barclay Butera. The room boasts just the right amount of pattern, while the ivory color scheme contrasts, and the lighting creates ambiance. This five-star room looks like a celebrity's sanctuary.